To plan a children's birthday party is not child's play, believe me, I have some personal experience in this field and boy is it a tedious job. I know a thing or two about organizing birthday parties as I have a baby brother who's a tween, so you may even call me an expert. Well, pseudo-expert.
So let me just walk you through the easy job (sarcasm intended) of organizing a birthday party for children.
Credit or Cash?
Well, the first step in organizing a birthday party and any event would be fixing a budget. This makes planning everything if not easier, less difficult. You should fix a price limit on how much you want to spend on the birthday party and then mini budget the whole thing like how much out of it would you spend on decorations, how much on food etc. I could keep rumbling on but you get the point. And you might know this but let me add, always be prepared to go a little over budget, so keep a tiny space for that loose change.
What's the Trend Again?
A simple yet effective tool for a party everyone would remember would be to just put Mr. Google to work and look up the latest trends. If you are not old like me(tries to laugh, coughs instead), you'd already know what's in and what's out. The kids today, referred to as Gen Z on twitter, just don't go along with the traditional birthday parties that our parents planned for us. Oh no! We need to plan a themed party complete with decorations, cake, costumes and just about everything according to the theme. This gives a direction to your party. A little snippet from my life, we did a WWE themed party for my brother and let's just say it wasn't a very wise choice when they started body slamming each other for fun.
Now that I've put you in a pickle, I feel obligated to help you with it. So some of the themes that I think are nice are
Gathering your kid's friends and playing their most loved movie would definitely fill your room with giggles and smiles. Watching your kid and his/her little friends enjoying their movie party together is surely going to be bliss!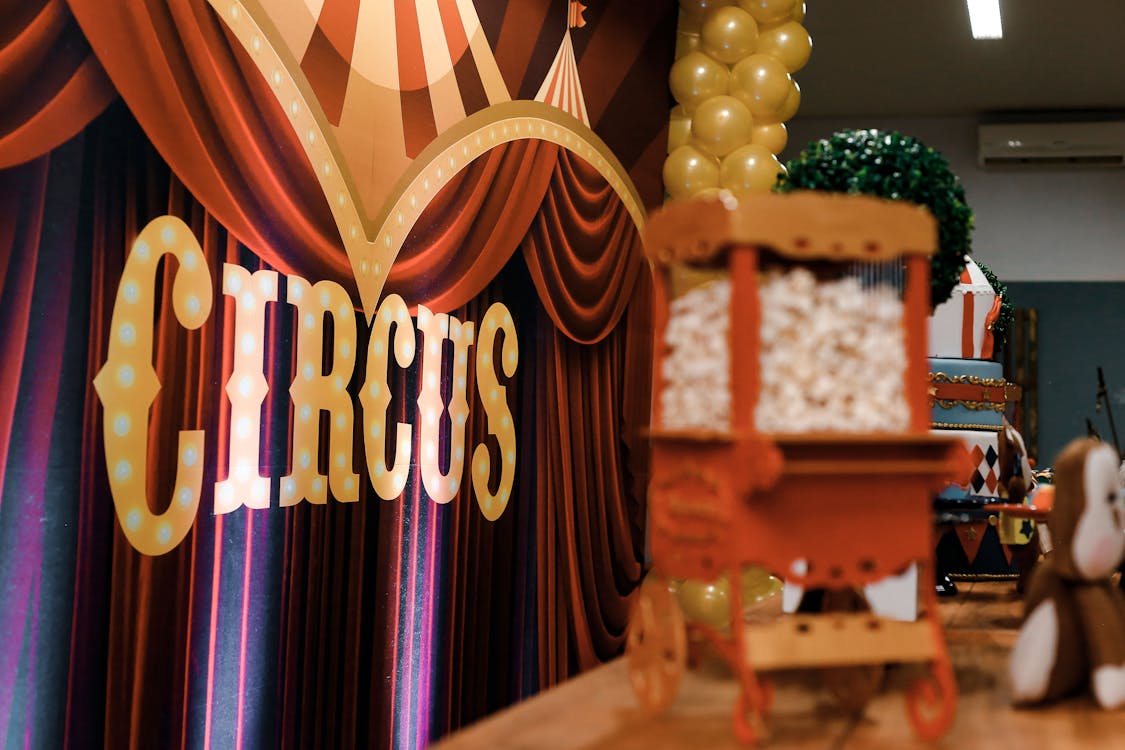 Imagine having a party of little kids dressed up as little jokers eating their favorite food and dancing around! A circus theme party is going to be one hell of a celebration for kids.
Decorate the venue for your party with the most famous cartoon among kids, invite people dressed up as their favorite cartoon characters, arrange games related to the funniest episodes of the cartoon, order the theme based cake, don't forget to pack the return gifts with the cartoon printed packing paper and you'll the be ready with a 'fun party' for your kid's birthday celebration.
Make the magical fantasy world of your child alive to his/her birthday venue and be your kid's favorite person for the special day (it's definitely a tough thing to crack)!
Be your kid's superhero (literally this day)! From the birthday cake or the planned games or even the dress codes to the birthday gifts everything should be part of the superhero world that day. Make the birthday party powerful in your kid's eyes.

This is one fun way to inspire kids and train them to respect the warriors who stood with us during the toughest times.
And just so you know, when selecting themes you should always consider that the child relates with it, like the favorite superhero or disney princess or favorite cartoon character (by that I mean ShinChan). Just try to keep it gender neutral.
Two tips if this doesn't work out:
What's seasonal is just simpler.

If the trends are just not what you're looking for, it's best to trust traditional.
Honey? Did You Invite The Smiths?
Well, another walk in the park is the 'Who to invite and who to not?'. I mean just try asking your child who they want to invite and they'll say their whole class, their cousins, neighbors and some random kid they've met just once because they are extremely greedy for gifts and of course, love (cue the 'aww's').
Never forget you are the boss here. Remember the budget we talked about, that also comes into play here. Decide how many people you can host, if the invited can bring plus one's or not, who to include and who not. This also depends on what venue you have selected. If it's an indoor party, invite less people to avoid crowding. If the venue is an outdoor setting, you can invite a larger group. This goes vice-versa.
For invitation cards, in this modern day and time, I would recommend beautifully designed E-invites, you can click on this link https://expresseventstation.com/e-invites?id=15 for some amazing free to use E-invites for your kid's birthday party . If you want to go a traditional route and send printed cards, that'll do. Or if looking for beautiful gesture and you have a time in your hand, handwritten cards will do. But E-invites are cost efficient and environment friendly. Make sure you mention everything in that card, whether it's a theme party, drop and pick-up hours, the 'please wear a mask' request (for birthday parties in a pandemic). This just makes it easier to arrange and also saves you from answering a lot of phone calls.
Will They? Won't They?
People who don't RSVP are just the worst. But if they don't and you are in a dilemma, a polite phone call will do. If they are coming, good. If they aren't, great. More cake for us!
I Think That's Enough Fun For Today.
Adults just need an arriving time and leave when they want. But that's not the case with kids. Kids have only a time span in which they can play and not become cranky. Also, you don't need long party hours for kids. For toddlers up to three years old, an hour long party is the maximum they can enjoy. And preferably at daytime so you know, they can nap. As the age keeps on increasing, add an extra half an hour to the party. Like the age group of 4 to 7 can enjoy a party of an hour and a half. Kids between 8-11 will enjoy a two hour soiree. The children that are 12 and up can easily stay for evenings and sleepovers.
All Work And No Play?
When I say games are important in a party, I mean they are really important. I mean its important to keep the kids engaged. When it comes to toddlers, just vacate the space from anything that looks remotely pointy and they will play freely. Kids above that age would like to do some crafts or games where they could run. The 'tweens' or the group of 8-11 years need at least four to six activities for they are the ones in a two hour party.
An important thing to note here is that kids should have fun so we should focus on that rather the to check boxes on our list. A little spontaneous, a little less control freak (more like Rachel, less like Monica).
Time To Go But Thank you For Coming!
Nothing says 'Thank you for coming!' like party favors. You can put some candy and toys in a bag that would be party themed. The party favors should always be prepared beforehand so it's important to prepare some extra for people who arrive unexpected.
I have passed on the gift of knowledge, now I can carry off this burden. But a little beads of wisdom won't go unappreciated. While prepping for an outdoor event, always keep the possibility of a rain check, figuratively speaking. Also if you are thinking about addressing the 'tween' demographic, may I suggest some more ideas like Amusement park party, a pool party or a rock star party.
So, I shall leave at that. All the best for your party planning. And yes, I'd like that E-invite a week before and preferably on e-mail!
Visit Express Event Station for more .